Catchword Generator
Catchword Generator is a script for Adobe InDesign to automatically add catchwords to text frames. Catchwords are an old-fashioned typographical feature that "prepeat" the first word of the next page at the bottom of the current one.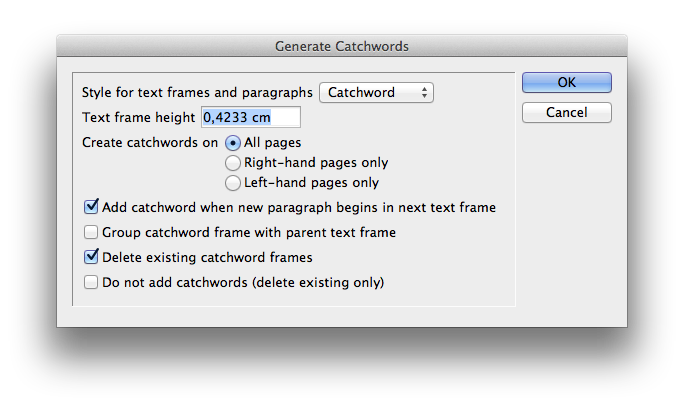 Usage
See the Read me.html file that comes with the script.
Localization
Catchword Generator currently has Dutch and English localizations.
Download
To download Catchword Generator version 1.1.2, click here; this is a 58 KB download.
As this is an interpreted script, the source code is available automatically as part of the download.
Installation
After downloading, the file catchwordgenerator-1.1.2.zip should unpack automatically; if this does not happen, go to the folder you saved it in and double-click on the file's icon. Refer to the file Read me.html for installation instructions.
License
Catchword Generator comes with ABSOLUTELY NO WARRANTY. This is free software, and you are welcome to redistribute it under the conditions set out in the GNU General Public License. See the Help for details.